Good morning everyone! My last few posts have been a bit on the serious side. So no better way to lighten things up than a WIAW! (Or Tuesday, because I actually remember to take pics of at least some of my food)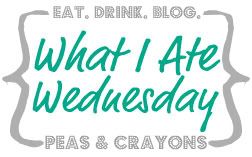 Of course my morning started out with a hot cup of coffee to wake me up, I don't think that's news to anyone.
Breakfast was a bowl of Chai Spiced oatmeal. Basically a package of Natures Path Hemp Seed Oatmeal cooked in Almond Milk with 2 hesping tablespoons of flaxmeal, 1/2 a banana, stevia, cardamon, and cinnamon. I'd show you a pic, but lets be real, I'm sure you've already seen about 50 pics of oatmeal this morning.
I was starving by the time I got to art class, so I bought a odwalla bar from the bookstore to hold me over until I could have something decent.
For lunch, I made these lentil garlic breads! I got them off of Kaboca Fashionistas blog. ( http://kabochafashionista.com/2012/01/27/savory-snacking-garlic-lentil-flatbreads/) They were so easy to make, just ground up red lentils (to make a flour), flaxseed, water, salt, and garlic. I made them into muffin molds, just because that's what I had available. They were so good, and dense! I'm definitely going to make them again, only next time I might keep them in the oven a bit longer, because the middle was slightly moist. It makes me wonder what other spices I could add to these to make different varieties of bread. Like maybe I could make a more breakfasty bread with cinnamon/ginger/cardamon/etc.
I also had some vegetables, hummus, and a pink lady on the side. But again, who really wants to see pics of that....
Dinner was acorn squash baked in the oven, and sprouted green lentils with sesame seeds and some random seasonings mixed in.
I also got this lovely package from Maggie over at The Vegan Cookbook Aficianado ( http://cookbookaficionado.wordpress.com/). It was full of her homemade smores granola bars, and a bag of Dandies Marshmallows. I already tried one of the granola bars (....or two) and they were delicious! I'm not sure what I'm going to do with the marshmallows yet, maybe rice krispies, or I could try my shot at my own homemade oat bars.
Wells that's all for today. Hope you enjoyed today's edition of WIAW. =)